The blog of Simon Kennedy, Architectural Photographer based in London.
Mawson Kerr Architects completed this stunning centre in Penrith, Cumbria, which features an incredible palette of locally sourced (where possible) materials including cedar shingles, slate and oak. The centre provides therapy rooms, recording studios, office space and a concert hall for the Sunbeams Music Trust charity, which offers musical therapy for disabled children and adults. The design is intended to contain rhythm, melody and other musical allusions, as it curves along the shape of the site. The centre has sustainability credentials, including the use of sheeps wool for insulation, and glulam for the main structure.

Design by Mawson Kerr Architects, 01 of 16.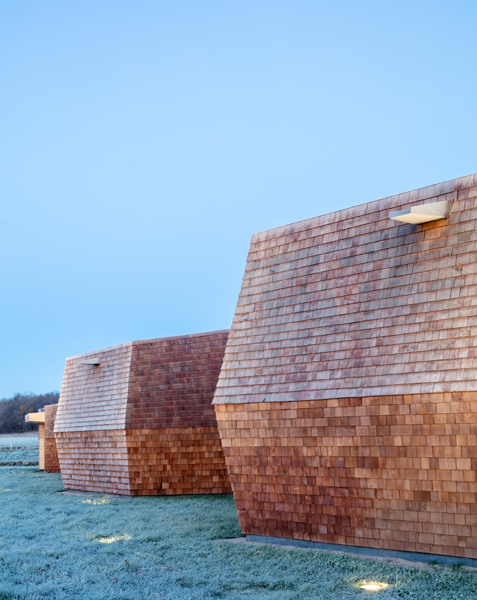 Timber clad expressive exterior forms, 02 of 16.

View showing roof lights and view across site, 03 of 16.

London architectural photographer, 04 of 16.

Timber facade photograph, 05 of 16.

Elevation view showing the timber cladding, 06 of 16.

Exterior timber cladding photograph showing openable doors and louvres, 07 of 16.

Architectural detail photographer, 08 of 16.

The architecture lies low in the site, 09 of 16.

The architecture is dug into the hill with a stone retaining wall, 10 of 16.

Photograph showing the timber entrance canopy, 11 of 16.

Photograph showing the entrance canopy with timber soffit, 12 of 16.

Interior architectural photograph, 13 of 16.

Oak acoustic panelling to the interior, 14 of 16

Dusk view of the facade, 15 of 16.

Night architectural photography, 16 of 16.
(Architectural photography completed over 1 day, all images copyright Simon Kennedy. If you wish to use any of these images for any purpose please email me at info@simonkennedy.net.)