The blog of Simon Kennedy, Architectural Photographer based in London. 
A new training centre for Avon and Somerset Police in Bristol, the building contains highly specialist spaces, such as two fire ranges and tactical training facilities, plus offices and classrooms. The 5,800 sq.m police training facility blends seamlessly into the base of a disused quarry and is perceiving as an integrated part of the landscape. The brief was made even more challenging due to the site having significant habitat issues. The presence of nesting Peregrine falcons meant that the design and construction had to be phased around the nesting season to avoid disturbance.
The building emerges echoing the geometry of the quarry workings. To further blend with the quarry walls, the exposed elevations of the building are faced in hand-filled angled stone gabions. The building is covered with a bio-diverse roof that over time merges building with the adjacent rugged landscape. Underneath, a structural solution provides the necessary ballistic protection as well as acoustic insulation to protect the local wildlife. Haverstock developed the specialist facilities in close consultation with numerous departments of the Avon & Somerset Police force – from the management team to the day-to-day end users, in order to ensure that the building met their very specific needs and wishes.
Due to the very specific Home Office requirements, some very challenging issues such as the large ventilation demands of firing ranges were presented to Haverstock. As a result, the slatted timber soffit over the entrance also serves as a large plenum, drawing air into the plant room adjacent and then down into the ranges. The training facilities are designed to be simple, practical, safe, secure and robust whilst the front of house and admin spaces have richer palette of materials and a more refined aesthetic.
(Architectural photography completed over 1.5 days, all images copyright Simon Kennedy. If you wish to use any of these images for any purpose please email me at info@simonkennedy.net.)
Blackrock Quarry Fire Ranges and Technical Training Centre photograph

Entrance photograph with Gabion Wall and Timber soffit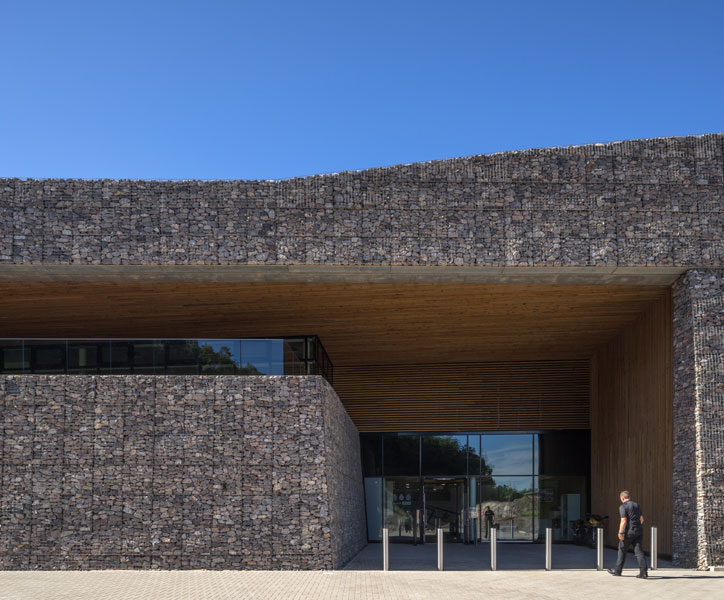 Main facade elevation photograph.

Solar panelling

London interiors photographer

Internal lighting simulation

Fluorescent illumination of practice area

Recreation activity spaces

Interior multi purpose stage with false doors

Gabion wall architectural detail photography

Stone and shadow architectural detail photograph

Haverstock Associates, training facility night photograph

London Architectural Photographer

Hillside context showing floodlights photographed at dusk, Bristol

This is the blog of Simon Kennedy, London Architectural Photographer. If you would like to see more of my work, please visit www.simonkennedy.net