The blog of Simon Kennedy, Architectural Photographer based in London. My website is www.simonkennedy.net
I was commissioned recently by Kathryn Findlay of Ushida Findlay Architects to photograph the architecture of the extraordinary ArcelorMittal Orbit, a showpiece structure in the middle of the London 2012 Olympic Park.
Designed in it's initial form by artist Anish Kapoor and structural engineer Cecil Balmond, Ushida Findlay Architects were responsible for the architectural components, including the staircase, observation decks with amazing views over London and the 2012 Olympic park, and the entrance pavilion, next to Anish Kapoors impressive Cor-ten steel "Bell".
The Orbit is well worth a visit, the staircase intertwined with the dynamic red-painted steel structural elements is a particularly enjoyable architectural experience, and the architecture of the observation decks is elegantly minimal.
(Architectural photography completed over two days, all images copyright Simon Kennedy. If you wish to use any of these images for any purpose please email me at info@simonkennedy.net.)
001 The Orbit – this image made the front cover of the Architect's Journal.
002 Looking up at the impressive towering form of the AncelorMittal Orbit:
003 The Orbit, part of the London Olympic Park, a showpiece for the 2012 Olympic games:
004 Artist Anish Kapoor's Orbit
005 Architectural photography showing views from the Orbit of the Olympic park and over to Canary Wharf.
006 View from Anish Kapoor's Orbit
007 The Orbit provides views across London, the Shard is visible in this shot:
008 Maintenance walkway near the top:
009 Architectural photography of the interior:
010 The Ushida Findlay Architects-designed interior of the observation deck, showing the central atrium or annulus.
011 Further shots of the observation deck:
012 Architectural photography of the interior of Orbit:
013 Orbit interior showing metal panelling:
014 Photograph showing glazing of annulus:
015 Metal cladding to the annulus designed by Ushida Findlay Architects:
016 Architectural photography of the orbit
017 Metal cladding of the annulus:
018 Architectural photography of the annulus:
020 The Orbit, London.
021 Interior photography of the ArcelorMittal Orbit:
022 The Orbit interior:
023 Interior showing views across london:
024 View from the upper observation deck of the Orbit:
025 The Orbit upper observation deck:
026 View over the 2012 Olympic Park and over London:
027 Architectural Photography of the interior of the lower observation deck of the Orbit:
028 View from the lower observation deck:
029: Canary Wharf clearly visible through the dynamic red steel structure:
030 Architectural photography of the Orbit, London:
031: Anish Kapoor, Cecil Balmond and Ushida Findlay's ArcelorMittal Orbit, Olympic Park, London:
032 Photograph of the annulus:
033 Anish Kapoor's canopy, made from Cor-ten steel:
034 Looking up into the roof of Anish Kapoor's "Bell-like" canopy:
035 The Canopy:
036 The Cor-ten Canopy:
037 The Cor-ten Canopy:
038 Architectural detail:
039 Anish Kapoor's Orbit:
040 Ushida Findlay Architects expressive staircase which wraps around the Orbit:
041 London 2012 Olympics Orbit staircase:
042: Ushida Findlay's staircase:
043 The Orbit photographed by London Architectural Photographer Simon Kennedy:
044 Architectural Photography of the staircase:
046 The staircase to Anish Kapoor's Orbit:
047 ArcelorMittal Orbit staircase:
048 Architectural photography of the staircase:
049 Orbit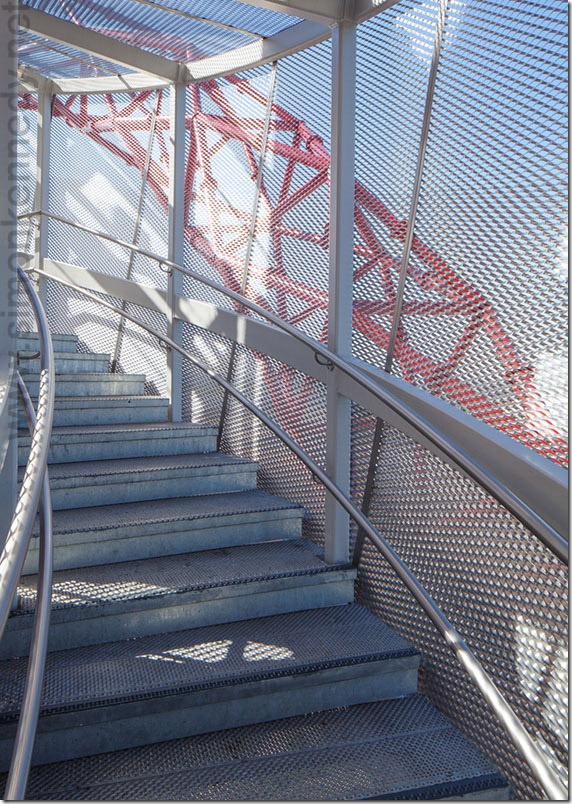 050 Orbit staircase, overall structural design by Cecil Balmond:
051 London Orbit:
052 Architectural Photography of the Orbit staircase, designed by Ushida Findlay:
053 Orbit staircase, London:
054 Architectural photography of the staircase:
055 The staircase, showing the stainless steel mesh cladding and the red steel main structure:
056 The ArcelorMittal Orbit staircase:
057 Looking up through the Anish Kapoor steel work to the underside of the staircase:
058 View of the steel work, Orbit, London 2012:
059 Looking down onto the top of the Bell:
061 Steel mesh in the Orbit staircase:
062 The staircase becomes a ramp toward the bottom:
063: The Orbit in the wider context of the Olympic Park:
064 Anish Kapoor's Orbit in the evening sun:
065 Orbit:
066 ArcelorMittal Orbit:
067 Cecil Balmond collaborated on the design:
068 Orbit is part of the 2012 London Olympics:
069 Architectural Photography of the Orbit, London:
070 The Orbit in the wider context of the Olympic Park, also showing the Olympic stadium:
070 The Orbit in the wider context of the Olympic Park, also showing the Olympic stadium:
072 Architectural Photography of the Orbit and the Olympic Stadium:
073 A close view:
074 Anish Kapoor Orbit:
075 This photograph was also printed in the Architect's Journal:
076 Sunset view:
077 Architectural photography of the ArcelorMittal Orbit, architecture by Ushida Findlay:
078 The structure is lit up as night falls:
079 Orbit designed in collaboration with Cecil Balmond:
080 Photography by Simon Kennedy:
081 London 2012 Orbit:
082 With the Olympic Stadium:
083:
084 Orbit with the Olympic Stadium:
085 The structure glows red at night:
086 Photography of the Orbit at night:
This is the blog of Simon Kennedy, London Architectural Photographer. If you would like to see more of my work, please visit www.simonkennedy.net